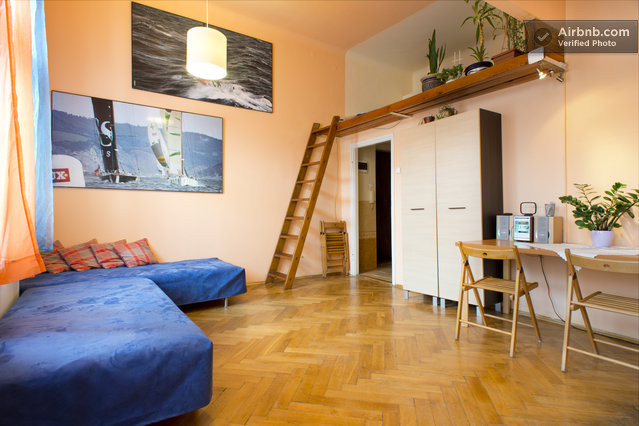 Planning for our mother/daughter trip to Europe is rolling right along! I just booked our lodgings for our three nights in Krakow, only a few minute's walk from the main square. We will be renting an entire apartment with semi-separate sleeping areas, complete with small kitchen, washing machine, and (most critical) internet – all for a cost of  $42 USD per night. Not too bad!
When I wrote about my initial research for places to stay in Krakow, I searched through images of apartments and hotels in Krakow, making note of my "gut reaction" regarding which ones were attractive and looked clean and safe. I found a few nice looking places for as low as $25/night.
But they were a good half mile or more from Old Town. This is where the "brain" comes in to narrow down the choices. We wanted to be right in the thick of things, so while this apartment wasn't on our original list, we decided this option was the best choice. It's still much less expensive than hotels in the area, so all in all we're excited!
Now that I've booked one place on Airbnb (Venice), the booking process this time was much quicker and easier. And our host so far has been incredibly helpful, despite the fact I've only been talking to him for a few hours! He's suggested sights to see and transportation to those destinations, and has given me a few links to local tour companies (I found some tours on Viator, but hadn't really found any other options yet).
Best of all, after searching the website What's On When, I realize we'll be in town for the STREETART Festival!
Krakow's STREETART Festival keeps the centuries-old tradition of street performance alive for modern audiences. The revelry is centred on the medieval-style Old Town Market Square and sees magicians, jugglers and puppeteers tumble and perform in front of rapt audiences.

Organised by Teatr KTO, the festival fuses medieval street performance with modern theatrical trends, and is one of the oldest festivals of its kind in Central-Eastern Europe. Expect lively music, colourful costumes and a host of special effects. The festival draws large crowds each summer and is suitable for all the family.
---
---