Just a quick update on our planning for our mother/daughter Europe trip: we booked a hotel for Venice!!
The initial criteria was that the hotel had to be on the main Venice island area. We wanted to be within walking distance of most of the attractions, without having to take water taxis everywhere.
But I searched and searched and searched, and it was nearly impossible to find any lodgings that would cost less than $100 per night. Even hostels were running $50 per person for a private room for the two of us. The company I have hotel points with (Priority Club) did not have any hotels on the main islands, so I couldn't use points to reduce the cost.
 This photo is courtesy of TripAdvisor
After searching what seemed like every aggregating website on earth (both the Priority Club and Ultimate Rewards points portals, hotels.com, expedia.com, airbnb.com, etc), I finally found a gem at $60 EUR per night for a room with a private bathroom, free internet, and breakfast brought to your room on a tray every morning. It was confusing at first, since it appeared to be an inn, but was listed on Airbnb. I contacted the host through Airbnb's messaging portal, and he got back to me immediately. Further investigation on TripAdvisor showed around 70 solidly positive reviews, so I went with my gut and booked it.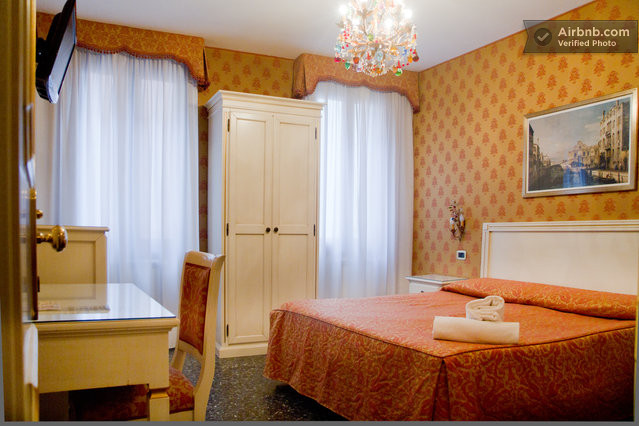 The hardest part of the booking itself was actually becoming verified with Airbnb. Previously, I had used my account to browse and to contact potential hosts. But once I actually wanted to make the booking, there was a whole new set of steps I had to take to verify my identity. I had to provide "online" verification, using facebook, twitter, or a credit card, and "offline" verification.
For the offline portion, I had to enter information like my birthdate and the last 4 digits of my social security number, after which I had to answer a few questions that are similar to any credit check or background check – things like where a family member was born or what street I lived on during certain years. If I hadn't known of airbnb's reputation, I would have been wary of entering this information, but plenty of people have used it without issue, so I proceeded with the booking.
Actually, the fact that Airbnb does require such detailed identifying information makes me feel a little bit safer/better about booking with this service for the first time. While I realize that it won't keep out the true skeezeballs who could probably come up with a bogus SSN faster than I could type in my own, it does provide that extra level of comfort that most of the people using the system are real, live, honest human beings.
Less than 10 minutes later, our room was booked! We're set to stay near the Guggenheim museum, only a 10-15 minute walk from San Marco.
---
---